All products are added to your cart.
TrackIR 5
11 reviews
Thanks to the NaturalPoint Track IR 5, you will experience 3D on a flat screen, allowing for full immersion in the game.
Article code TIR-5
SKU TIR-001
Article code TIR-5
SKU TIR-001
Experience 3D on a flat screen!
Thanks to the NaturalPoint Track IR 5, you will experience 3D on a flat screen, allowing for full immersion in the game. Where the Track IR 4 already was an advanced piece of technology, the Track IR 5 takes it a step further. Thanks to a wider field of view of 51.7ยบ, a frequency of 120 frames per second and a response time of only nine milliseconds, you can look around your game or simulation smoothly without noticeable delay. The Track IR has six degrees of motion freedom (6DOF), which are: the X, Y and Z axes, and pitch, roll and yaw. With the Track IR, NaturalPoint creates a 3D experience on a flat screen, giving meaning to their catchphrase: 'Put your head in the game'.
Never miss the centre line again.
With the help of reflected infrared light in the vector clip (provided as standard) on the front of a baseball cap, or the track clip pro (sold separately) on the front of your headset, the Track IR determines the position of your head. When your head position changes (e.g. by looking up), you will look around your game or simulation within the confines of the Track IR 5 (and of course your computer screen). You will never have to guess when to turn to end up right on the centre line, because you can simply look and see for yourself.
| | |
| --- | --- |
| Apparaattype: | Motion Tracker |
| Aansluiting(en): | USB |
| Platform: | Windows Vista (or newer) |
| Compatibel met: | Shooters, Race games, Flight Simulation |
| Gewicht: | 0.05 kg |
| Garantie: | 2 jaar |
| Garantie-type: | Carry-in |
Danny Remmers
28-03-2018 11:18
AMAZING, I figured it would work, but it gives a total new dimension to simulation games.
Albert Vermeule
12-03-2018 09:00
Twijfelde lang om de TrackiR 5 aan te schaffen, omdat ik al een 4 had en die voldeed aardig goed, maar de betere sensor van de 5 zorgt ervoor dat het beeld veel stabieler is, zodat het met de muis bedienen van knoppen in de virtuele cockpits van FSX veel beter gaat, zeker als je wat verder opzij moet kijken, zoals bij de radio's in de pedestal. De kwaliteit van de behuizing is ook sterk verbeterd, waardoor de poten beter blijven zitten op je monitor en voor de zelfbouwers, de sensor zit met een magneet op de pootjes vast, waardoor hij makkelijk is te verwijderen en op een zelfgemaakte constructie is te bevestigen. Het is niet de goedkoopste upgrade, maar ik ben er zeer tevreden mee.
Peter Steen
04-03-2018 12:26
Mooie verrijking van het realisme van Xplane 11.
Rolf Weber
22-02-2018 16:40
Koper heeft geen omschrijving achtergelaten.
Ricardo Evangelinos
15-02-2018 17:33
Koper heeft geen omschrijving achtergelaten.
G.A. Tetenburg
10-02-2018 20:45
TrackIR gebruik ik voor een flightsimulator. Om snel en veilig een Boeing te configureren voor de landing, is het nodig om je heen te kunnen kijken. Met een joystick werkt dat niet zo fijn, met TrackIR des te beter. De bijbehorende software is te downloaden (altijd meest recente versie) en installatie van zowel TrackIR als de software is enorm eenvoudig en werkt direct. Specifieke TrackIR profielen zijn ook op internet te vinden voor diverse simulatoren, hoewel ook gemakkelijk zelf een profiel te maken is, wanneer je een beetje begrijpt welke bewegingen je instelt. Zijn bewegingen te snel of te abrupt ingesteld, kan je je misselijk gaan voelen. Dan zul je de snelheid van de bewegingen terug moeten schroeven. Eenmaal goed ingesteld - wat echt een eitje is - heb je er ontzettend veel gemak en plezier van. Zeer geschikt product voor diverse games en simulators.
Dieter De Wit
02-02-2018 09:48
Zeer goed product. Ik speel voornamelijk combat (flight) simulators en is Track IR onontbeerlijk voor situational awareness.
Orlando Lemmert
16-01-2018 14:08
Ik kan het product niet gebruiken. Toen ik het product bestelde stond er nergens vermeld dat deze niet werkt op een Mac. Dus beetje jammer.
Péter Pál Nagy
16-01-2018 07:20
Perfect. Very usefull.
A. Feldhaus
02-01-2018 18:14
hij is perfect kan hem echt niet meer missen dikke 10 werk prima en waar voor je geld :)
Jan de Kievid
30-12-2017 18:38
Ik deze nu een maand en ik vind hem geweldig heel Steady loopt vloeiend en nooit geen storing of wat dan ook. Ik zou hem niet meer kunnen missen ik gebruik hem voor Euro Truck Simulator 2. Gewoon linkse en rechts kijken of er verkeer aan komt geen gedoe meer met je muis of knoppen
4.55
stars based on
11
reviews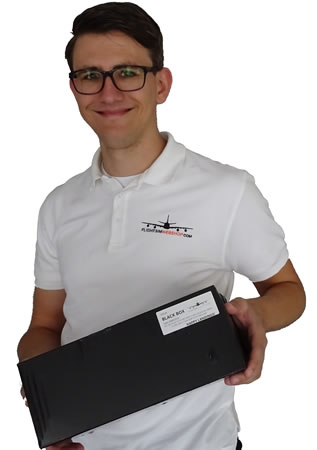 Do you have trouble choosing?
We can imagine! With so many different flightsim products to choose from, it's not an easy choice to make.
We would be happy to help you make a choice by providing advice and answering your questions. Our customer service is available daily via +31 (0)317 - 702 700. Or send us a message via:
Frequently Asked Questions.
If you have a question about payment methods or shipping costs, it is quite likely that we have already answered this in our list of most frequently asked (general) questions. You can find this list
here
.
Other customers also viewed
Sale